Geia pós eísai (ϒεια πώς είσαι)
Today's greeting acknowledges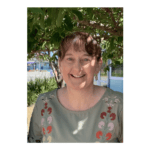 the small but wonderful group of students with Greek heritage at PBS. This Greek greeting "Geia pós eísai" is roughly pronounced Ya pos ee-saeh. Give it a try – it's great to learn new languages in our culturally-rich country.
Last week I attended the New Zealand Principals' Federation Conference in Christchurch. A few of the keynote speakers really resonated with me as a member of a school community and as a school leader.
Scott Robertson, head coach of the Crusaders rugby team, spoke about the importance of creating a culture within his team so all players felt a connection. He asked Principals to consider what makes up the culture of our schools; what are the common things that hold us together, make us unique, and build a sense of belonging and connection. Scott prompted us by asking us to reflect on eight elements; sequence, stories, sounds, symbols, smell, space, stage and significance.
Below are just some of the things I considered reflect the culture of Paraparaumu Beach School:
Sequence: Our strategic plan sets the direction for our staff and board, reflecting goals which are important to our community. Our CREST values give structure to school life and expectations. An inquiry learning model is used to stimulate curiosty. Routines, such as eating after play, are deliberately planned. An emphasis on 'Learning through Play' in the early years helps tamariki transition from kindy and Team Teaching (SWAT) helps to prepare senior kids for college.
Stories: Our school motto – CARING, SHARING, PREPARING promotes elements of school life which are important to us. The narrative behind our syndicate names link us to our coastal environment. The shared memories we create on camps, trips, Senior Syndicate visits to Kapiti Island, and special events like Matariki this year, all bring us together.
Sounds: Our culture can be heard in our school waiata, use of the National Anthem at assemblies, use of CREST words in everyday interactions and use of our school pepeha.
Symbols: Our culture can be seen in murals and artwork around the school, our school logo, CREST certificates, sports uniforms and our beautifully carved Pou. The use of student-led powhiri at school assemblies symbolises our comitment to tikanga.
Smell: Our unique place and position can be smelt in the salty sea air and freshly cut golf greens, reflecting our community and beach location. The smell of newly plucked strawberries, from our junior vegie gardens, hint at some of the unique opportunities we offer.
Space: The clean, tidy, respected school environment, which draws comments from visitors, is a source of school pride. The 600 plants kids planted (3 years back) enhance our grounds and encourage birds to stop and feed. We are grateful for facilities like our upgraded hall, our welcoming library and our solar heated pool which set us apart from other schools.
Stage: Our regular syndicate assemblies and termly school assemblies build a sense of belonging and togetherness. Opportunities for students to achieve enable talent to be witnessed and celebrated, including but not limited to student success at sporting events, competitions (Tournament of minds, Spelling Bees, Wearable Arts, Speeches, Debates), and the annual Kapa Haka hui. The opportunities for student leadership and responsibility e.g road patrollers, librarians, PBS TV Crew, Peace Patrol, Student Council and Sport Ambassadors also promote participation.
Significance: Our school vision "Preparing our Tamariki with the skills to shape their world" embodies the purpose of our school community. Our traditions of annual prizegivings, the Board Outstanding Achievement Award and 15+ years of ERO review excellence are a few examples of our cultural significance.
These things do not happen accidentally, they are all the result of teamwork and dedication. The dedication of staff, Board, PTA and parents to make PBS a fun, safe and successful school for our  children to thrive in. Thank you for your input into this success!
PRINCIPAL'S GREAT NEWS CORNER:
Sharing good news spreads positivity, changes attitudes and ultimately leads to more people feeling encouraged and happy
I always enjoy my time on duty in the playground, watching the kids play, keep active and hang out with friends. On the whole it's a very friendly playground with lots of things to keep kids engaged and active. However, it's not often that I stumble across senior kids like this below – relaxing in a pile! This made me smile 🙂
Antio sas (αντιο σας)
Jess Ward
Tumuaki ~ Principal
PS Don't forget to vote in our Board Elections. Voting closes this Friday at 4pm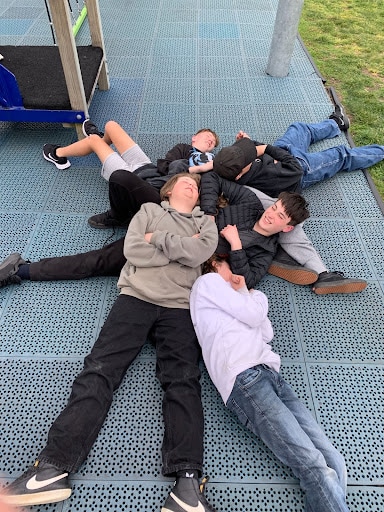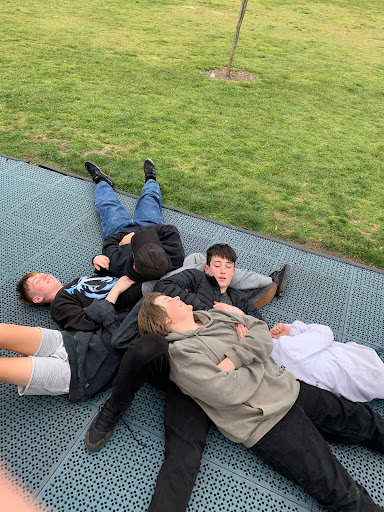 Welcome to Our Recent New Students
There were no new students this week


School is Closed on Monday (26 September)
In recognition of Queen Elizabeth II's life and in acknowledgement of her passing New Zealand is having a national holiday on Monday, 26 September.  Therefore, school will be closed on this day. 
PBS Book Week - Next Week
There will be a few activities throughout the week, ending with a Book Character dress up day on Friday, 30 September. So start thinking about who your favourite book character is as we're planning a parade!
Lockdown Practice - Heads Up
Between now and the end of term our school will be practising a lockdown drill with all classes.  Teachers will talk their students through this so that they know it is a drill. 
Practising procedures for lockdown and 'shelter in place' scenarios enable the school staff to check and review the measures we have planned in the case of a chemical spill, bee/wasp swarm, unwanted trespasser on school grounds or another kind of safety hazard which would require students to stay indoors.
Preparing for 2023 Classes
The process of putting class lists together for a new year is an extremely complex and time consuming task. There are many variables to consider, for example; creating equal class sizes, ensuring a balance of student needs and abilities (e.g. social, behavioural, academic, medical) and making allowances for splitting siblings/cousins, and so on.
In smaller schools there may only be one class at each level and therefore no opportunity to group students in different ways. In a school our size, whilst we do have the advantage of flexibility, the process takes time and consideration. I can assure you that we act professionally and thoughtfully when placing students in classes. We ask that parents are understanding and supportive of the complexities involved.
Therefore, we prefer that parents do not submit requests unless there are exceptional circumstances. If parents want us to consider any exceptional circumstances that their child has in regards to class placement, then the formal process must be followed.
Requests must specifically describe the exceptional circumstances around their child's needs
It is preferable that parents do not request a specific teacher by name
Requests must be from the child's parent/legal guardian
Request must be in writing to the Principal jward@pbs.school.nz
Requests must be received no later than our cut-off on Friday, 28 October. Requests will not be accepted after this time.
Whilst we allow parents to submit these requests, we do ask in return, that the final decision on class placement (whether or not the request has been met) is both respected and promoted positively by parents to their child.
Thank you.
"I remembered to bring my smile to school today!
Do you have any unused kids bike helmets (in good condition) at home that you're willing to donate to the school? Please drop any items into the school office. Thanks a million in advance.
Thank you for the helmets we have received so far 🙂
Using Māori Language at Home
It's important for all Kiwi to learn te reo.  Each week our newsletter will include phrases that you might like to try out at your place.  After all, it will take the whole nation to keep this unique language alive.
Let's build up our vocabulary. Here's some words/kupu you might hear in the classroom:
Pene rākau = pencil
Pene = pen
Tūru = chair
Tēpu = table
Pukapuka = book
Pēke = bag
This website can teach you a new word every day: https://kupu.maori.nz/
TE MOTU CAMP FUNDRAISING 2023
Hot Dog Fundraiser - Supporting Te Motu Camp 2023
American hot dogs are available again this Friday, 23 September.  Orders close at midnight tonight – Tuesday, 20 September.  Order yours now for $4 each on Kindo.
Yummy hot chcolates will be available at the hall on Tuesday mornings before school while stocks last!  $2 each.
Sadly, our Year 3 – 8 netball teams have come to the end of their season. Our akonga have had a fantastic season thanks to our wonderful coaches who have taught them lots of new skills, supported them through challenges and created a fun-filled environment where new friendships have been formed. We are truly grateful to Daphne, Craig, Rae, Deb, Silla, Courtney and Kelly who dedicated their time, enabling our players to have the opportunity to play this popular sport.
Congratulations to all our teams. We hope to see you all back next year.
Coming Up:
Year 4 – "Teach Train and Transition"
A program designed for Year 4 players heading into 7 aside netball in 2023.  This program runs for 3 weeks (1 session per week) to teach Year 4 players the game of 7 aside netball and to train and transition them into having the confidence to play 7 aside netball in 2023.
Tuesday, 25th October – 4.00pm – 5.30pm
Tuesday, 1st November – 4.00pm- 5.30pm
Tuesday, 8th November – 4.00pm – 5.30pm
Registrations are now open: https://www.sporty.co.nz/viewform/204165
Year 1 & 2 Netball (Term 4 – 5 Weeks)
Wednesdays, 26th October to 23rd November at 4.00 pm. Star Helpers will be required so please have a think if you can volunteer an hour of your time to help us out with this programme. Registrations will come out soon.
Year 7 Vision Screening Programme - Friday, 23 September
Regional Public Health proviedes a vision screening programme for all Year 7 students:
Vision – pupils will be advised of results at the time of screening.  If further assessment is recommended you will be notified by mail
Children who wear glasses and/or are under professional care and have regular checks will not require a vision check from our service
Non-consent – please notify your school if you do not want your child being screened.
This screening is not a full assessment of your child's vision.  If you have any concerns, please see an optometrist.
Photo order forms should have been sent home with everyone by now.  You can order photos online (instructions on the order envelope) or by returning the payment envelope with correct cash included to school by the closing date of 18 October.
Thank you for all of the yummy stickers that have been sent in so far! The more we collect the more sports gear we will receive so please keep them coming. This runs until the end of the term.  Please note that we get double points for the Sweet Tango, Lemonade and Ambrosia stickers, so please stick these ones to the appropriate collection sheet (the one with the trees). It makes collation so much easier for us.
Yummy apples are available from New World, Pak'n Save and participating Four Square stores.
Sticker collection sheets are available from the School Office or the Yummy Fruit Company's website https://www.yummyfruit.co.nz/schools/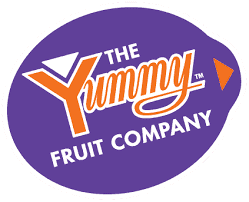 Have You Checked Out Our Community Notices Directory?
Do you need to advertise your business, an upcoming event, need child care, or looking for a gift or new club to join?  Check out the PBS Community Directory on our website  https://kapiti.pbs.school.nz/
Below is an example of what you will find in the Business Support section:
Future Student Achievements
If your child has an achievement you would like us to share in our newsletter, then please send details (and a picture if you would like) to mbarfoote@pbs.school.nz