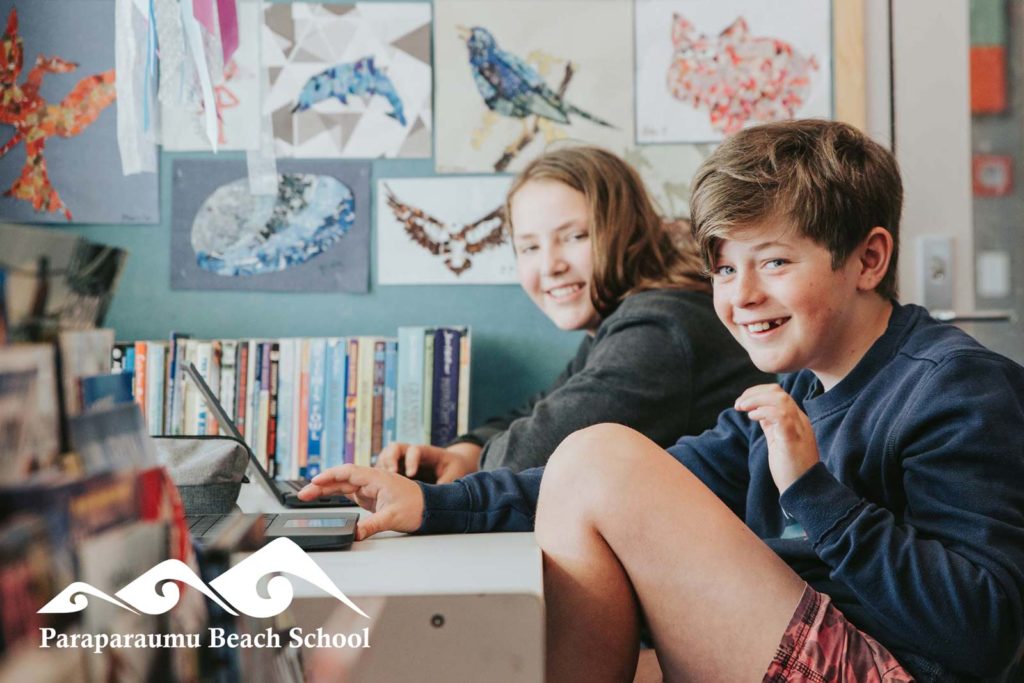 Te Moana syndicate had lots of fun at the Science Roadshow last week.  This travelling roadshow offers students the opportunity to explore various science and technology concepts in a hands-on way.  It was great to watch our students' curiosity and surprise at the discoveries they made..
Tournament of Minds Success for PBS
Last Saturday PBS attended the Tournament of Minds in Wellington.  We entered 5 teams; one Year 7&8 team called Literally Cool and four Year 5&6 teams; The Peanut Butter Sandwiches, The Dream Team, The Warriors and The Peeps. 
All our PBS teams wrapped up their hockey season this week, with some great final games including two PBS derby games for Years 5/6 and 7/8, and some fun kids v parents games on Sunday for the Year 1/2 and Year 3/4 players.
Our fostered puppies are teaching kids kindness, empathy and responsibility. 
The Principal came back from gate duty this morning to find kids from the Student Council using her office as a film set! Watching from the sidelines she was so impressed with the technical skills they were using and can't wait to see the finished advertisement for Onesie Day (fundraiser for Wellington Free Ambulance).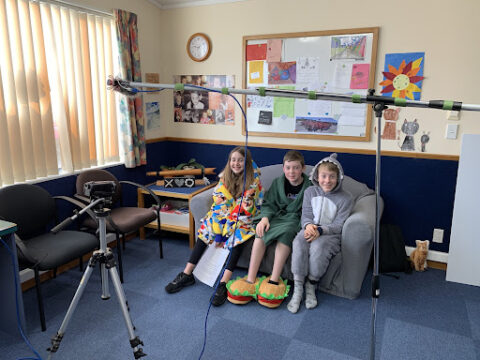 Check out  Emilie and Ruby's sustainable house model! It's on stilts, has a mechanism for collecting rainwater, and on the other side it has water wheels to catch water from the roof to generate power. A lot of time, thought and creation has gone into this project.  Great work team!
Congratulations to Devin Direen who won third place in the primary division at Kapiti Junior Chess Championship last Saturday. It was Devin's first time competing outside the club and the participants came from across the Wellington to Horowhenua region.
Congratulations to these kids, who together with their whānau participated in the NZ Maths week activities on the school Facebook Page.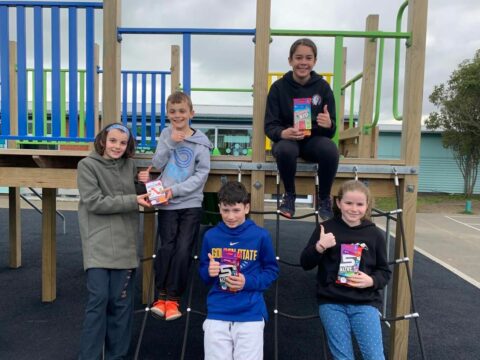 For the first time in PBS history we have entered the 48 Hour Film competition! Thanks to David Parr and Caty Spencer, a group of our senior students registered and prepared for this. Over the weekend the group had to select a genre from a list published on Friday night; they chose "Multiverse". Then they had to write, plan, direct, act, edit, produce and submit their work before the end of the weekend. The photo below is from the night shoot they held at school on Saturday.
Congratulations to our Year 5 Netball team, PBS Galaxy, for winning the Andrea Hadfield Sportsmanship trophy this season! You have made us all so proud. Big thanks to your coach Sila Mulitalo for her amazing work with you all as well.
Congratulations to Kyra Pulepule who was selected to play for  Horowhenua Hockey Associations U13's Girls representative squad. They will be playing in the Lower North Island tournament out of Palmerston North in October.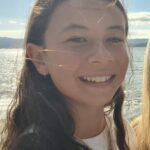 Congratulations to Shion and Seiji Tavendale who took part in a gymnastics competition in Levin last term.  
Shion Got 3rd in vault, 2nd in parallel bar, high bar and pommel horse and 1st in rings, and came 1st overall.  Seiji came 3rd in high bar, rings and floor, and 1st in parallel bar and came 2nd equal overall.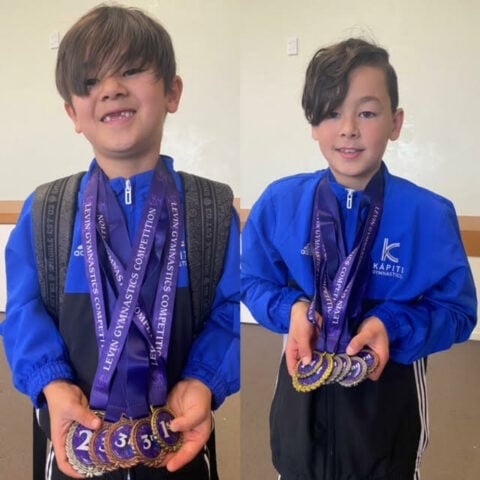 Congratulations to our CREST card draw winners for Term 2 – Ruby, Kaia and Heulyn!
Well done to all PBS tamariki who demonstrate our school values everyday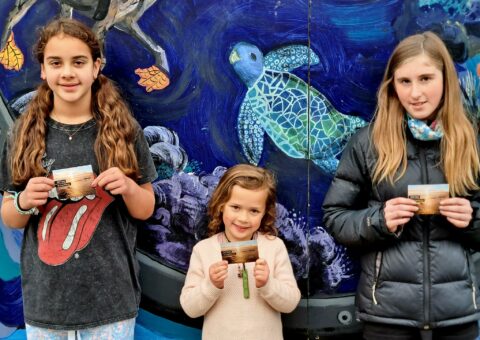 Gold for sisters Mia and Lucie Thomson at North Island cross country champs held at Taupo on the weekend!  Lucie took gold in the under 10 and Mia gold in the under 12s.  Congratulations girls.
Eloise Barber (Room 1) has been selected to dance with the Royal New Zealand Ballet in their upcoming season of Cinderella. She is very excited – it will be a fantastic experience for her.  Congratulations!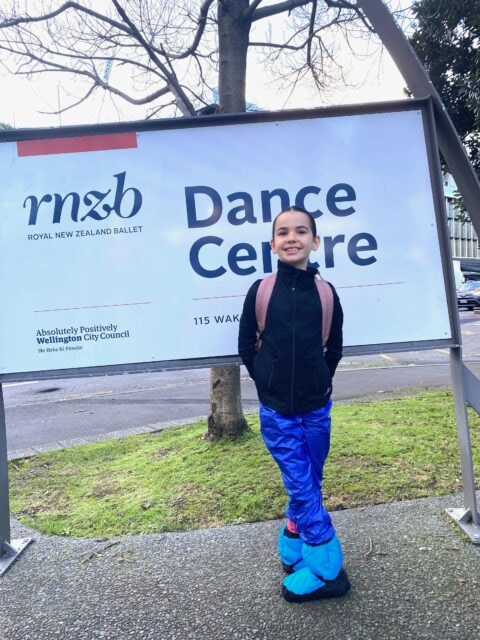 Indy Dinou has qualified as the youngest gymnast in Wellington for the Wellington Nationals Squad to compete at NZ Gymnastics Nationals in Invercargill in July.  Well done!
Matariki Competition Winners
In last week's competition, students researched and found out the different names for this constellation in other countries. The winners are Margarita, Jake, Jackson, Ashton, Jayden, Ema and Norah. They were able to name some of these and included Subaru, Makali'i, and the Pleiades.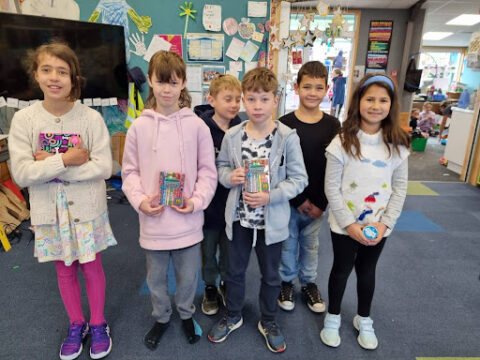 Savannah and Alexis were delighted to share with me their coding work.  Their class has been working in collaborative groups to create electronic information boards about the stars of Matariki. They talked me through the process of creating the artwork and wiring features of the picture to metal pins.  Each pin acted as a button.  The groups then created coded instructions with voice recordings using the Scratch coding programme.  The voice recordings contained separate pieces of information about each of the Matariki stars.   
The end product allows the audience to push the metal buttons which in turn plays the pre-recorded information about each star.  Needless to say these projects were out of this world!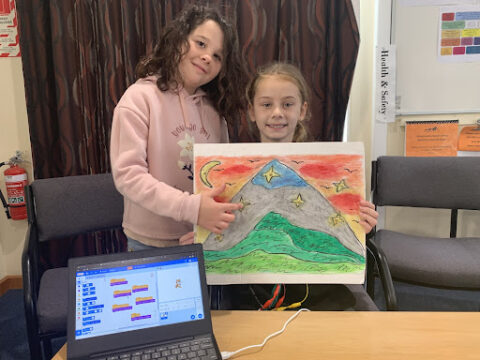 Te ara o ngā whetū o Matariki - Follow the stars of Matariki
This week's question for our weekly competition highlighted the significance of Matariki and the traditions in Māori culture.  Congratulations to Kayleigh, Sasha, Dakota, Freya and Skyla who were drawn out from this week's entries.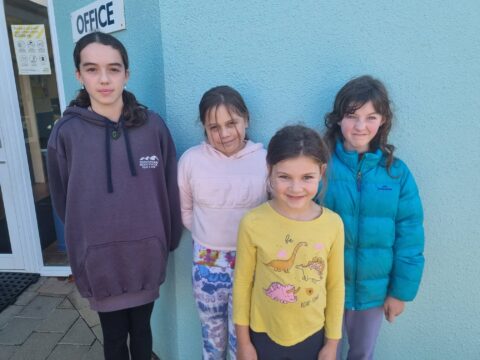 Inter-School Cross Country
We are ecstatic with the results of the Interschool Cross Country races which saw many PBS kids on the podium!
Mia Thomson 1st place in Year 6 girls race, Lucie Thomson 1st place in Year 4 girls race, Haley Kirton 3rd place in Year 3 girls race, Angus Wilson 3rd in AWD race, Harrison Stratford 1st in AWD race, and Anika Rehal 3rd in Year 7 Girls
Te Motu's Cross-Country Results
Congratulations to everyone who participated in the competitive event.  Many have qualified for interschools, and the top placings were as follows:  Anika Rehal, Emily Johnstone, Lucy Gestro, Zach Chandler, Matthew Byrne, Raegan McGregor, Alex Kenny-Schlup, Sakura Foulds, Natalia Gardiner, Fletcher Cooper, Luca Steinmetz and Zach Weir.
Te Moana's 2022 Cross-Country Championships
Well done to the Te Moana syndicate for an outstanding cross-country championship. Students painted bright banners, enthusiastically danced and sang class chants and wore bright running outfits in unison with their class. Throughout the event, they ran with pride and supported each other to the end. Te Moana syndicate showed their courage, and perseverance and showed great sportsmanship.
Congratulations to the outstanding results of our top placers:  Mason Morrison, Hosheia Bolton-Smithson, Noah Hunt, Kaya O'Brien, Zoe Gee, Angelica Bonner, Max Wood, Juvan Scholtz, William Hamdan, Mia Thomson, Holly McCullagh and Quin Steinmetz.
Last Tuesday the Student Councillors of PBS were lucky enough to go to NYLD, which stands for National Young Leaders Day. There were lots of other students and teachers from other schools there. The event was held in Porirua. Some cool speakers came to talk about resilience and leadership. They had a lot of great advice for us. We also got to do some fun games, and one involved a giant volleyball!
Te ara o ngā whetū o Matariki - Follow the stars of Matariki
This week's competition was to name tikanga activities around Matariki. Congratulations to Bailey, Madi, Emilie, Monty and Noah who were able to list some of these activities that included kite and lantern making, sharing kai, singing, goal setting and spending time with whanau.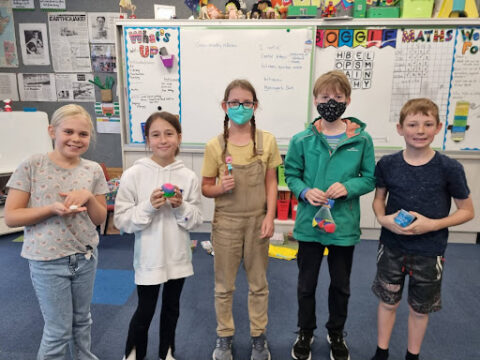 Could You Draw the Matariki Cluster?
This week's challenge was to draw the cluster of stars named Matariki. What talented artists we have in this school!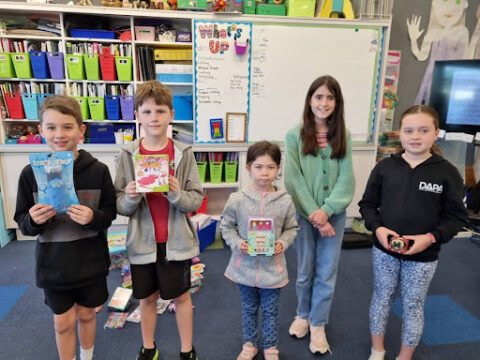 Just some of our awesome Pink Shirt Day photos!
The Nine Stars of Matariki
With our upcoming celebration of Matariki, we are running weekly competitions to encourage our ākonga to be curious, research and present their findings.  This week's question was "What are the 9 stars of Matariki called"?  All correct answers went into a draw where five lucky winners were pulled out of a box. Congratulations to Avah, Kaysi, Frankie, Ripeka and Ruby for being our first prize winners.
A highlight from my week last week was watching Te Motu's Music Challenge for 2022.  Wow, what a varied and fun-filled show!  Each class was designated a genre of music to perform to.  Within that genre they could choose the song or artist to create a performance around.  Every student needed to be involved in some way. These performances included dance, acrobatics, humour, storytelling, clever props and wigs galore
It's getting wintery – check out this wonderful umbrella crew who came into school at the same time this morning!  They all arrived warm and dry.
The 2022 season is now well underway for all of our 10 teams. The Year 5 – 8 teams started their first games of the season last Saturday. It was so much fun to watch our netballers learning new skills, working together and enjoying the game of netball.  
Check out the awesome Acers and Blazers' teams for 2022.
Measuring & Estimating Skills
Rooms 1 & 2 have been honing in on their measuring and estimating skills.  Maths minds at work – keep up the super mahi!
Congratulations to Callum Rice who won the Royal Wellington 9 Hole Junior Golf Open last week with a great round of 38! This is a competition for kids aged 18 and under in the Wellington region.  This season the Paraparaumu Beach Golf Club (PBGC) entered a team of Juniors in the Interclub 9 Hole Competition held from February-April. Callum was also part of this team, which included three 10 year olds and a 16 year old. None of them had ever been in Interclub competitions before, but performed really well as a team, and proudly represented PBGC – managing to make it into the finals, finishing 3rd overall on Sunday – a great result for their first season!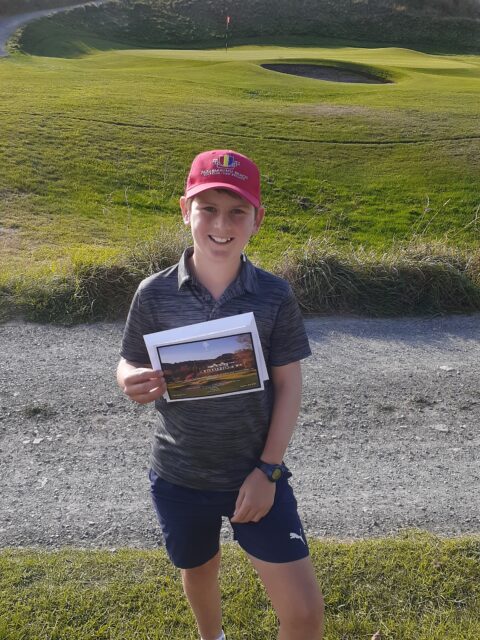 Theo and Mila competed in the National Wakeboarding Championships over the weekend of 1/2 April.  Theo placed 4th in the 8 & Under Boys Division and Mila came 2nd in the Under 15 Girls.  Well done!
The whole school had fun using all the play equipment on the WAKA KORI play trailer.  This play trailer is organised through KCDC and can be hired out to schools free of charge. The aim of the Waka Kori play trailer is "to remind us that play is super important for our tamariki's physical and mental health".  Below are just a few photos of kids at play.
Some of the fruit and vegetable characters roaming around the school!
Thank you to our incredible PBS Sports Ambassadors for encouraging us all to get active.  Here are some PBS kids getting active in the sun!
Congratulations to the following students who gained places on the podium for Paraparaumu Track and Field Club:
1st – May Newlove
2nd – Hayley Kirton
3rd – Aglika Angelova and Lara Thomson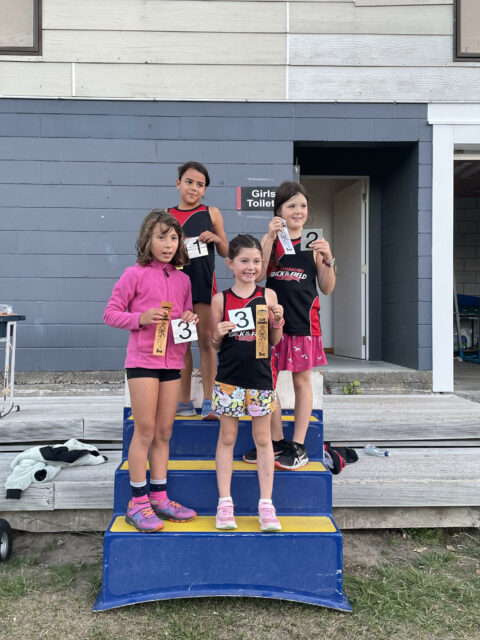 Manawatu Wanganui Children's Champs
Congratulations to Phoebe Corin & Mia Thomson who both went up to Palmerston North on 27 March for the Manawatu Wanganui Children's Champs. Each athlete is allowed to do 5 events and they both did very well:
*Phoebe – 1200m race walk Gold 9:16 new PB; Discus Gold Shot Put Gold; 200m Silver 32.4s new PB
*Mia – 1500m Gold (only 10 year old running); 800m Gold 2:28.50 new PB; High Jump Silver; Discus Silver new PB of around 19m
Some amazing results achieved by Mia and Phoebe at Wellington athletics champs…
*Mia gold 1500m (breaking the Wellington record) 5:01.56, gold in 800m, silver in 400m & 200m and bronze in high jump
*Phoebe Gold in discus 25.62 gold in shotput 10.08, gold in race walk
Congratulations to this year's newly appointed PBS Student Council!
Back row: Benjamin Ross, Ella Stevens, Hunter Page, Isobella Marshall, Fletcher Cooper, Max Darton, Kayla Turner
Front Row: Alex Kenny-Schlup, Kayla Collett, Jessica Ellames, Peycience Seymour, Bailey Hunt, Monty Parr, Luka Dinou & Samantha Barrington
Last week Maxwell from Room 10 shared his brilliant Maths work with me.  Maxwell was very proud to share his measurement work with me.  It was great to see his 'workings', showing how he arrived at his final answer.  Great work!
Mila and Theo competed in the North Island Wakeboarding Championships recently.  Mila won the under 15 girls division and Theo came 3rd in the under 8 boys.  Wonderful results from these two specialist athletes!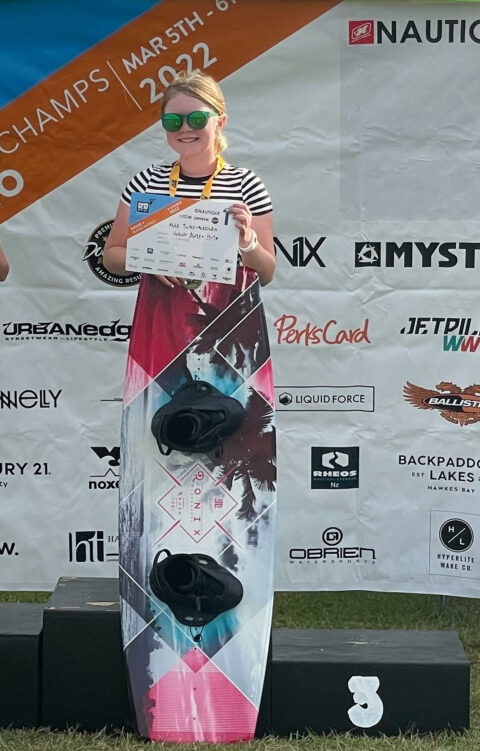 Amy in Room 29 has been learning to ride a unicycle!  I asked Amy about her new passion and this is what she told me.  "I started unicycling about 2 months ago. My sister helped me learn how to unicycle because she started unicycling about a year before me. It is really fun but quite hard when you start. I did a lot of falling off.  Now I can unicycle to school and home again for Moving March.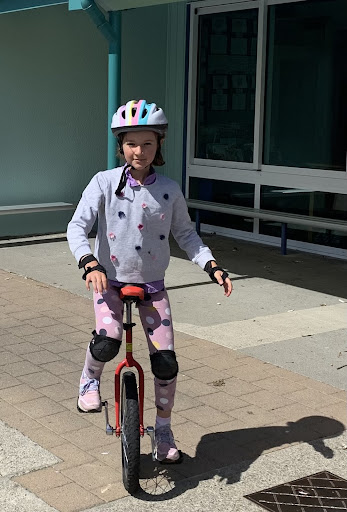 Ema and Aglika from Room 11 have been sharing the tradition of Martenitsa with their classmates.  Ema and Aglika's families are from Bulgaria and last week they proudly shared this tradition with me too.  They presented me with a small bracelet made from white and red wool. Martenitsa are worn from Baba Marta Day (March 1 when Spring starts in Bulgaria) until the wearer first sees a stork, swallow or blossoming tree (or until the end of March).  The red and white woven threads symbolize the wish for good health, which is of paramount importance right now.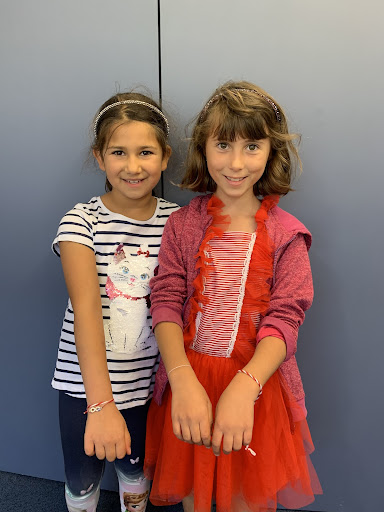 It was awesome to see Griffin (Room 28)  acting in "Wellington Paranormal", on TVNZ recently.  It's awesome to see that he's so passionate about pursuing his acting career.  Griffin is registered with a talent agency and hopes to get another role soon. Well done Griffin; keep aiming for the stars!
Former Student's Outstanding Recent Achievement
Former PBS student Nicholas Harman being applauded for an outstanding recent achievement. Nicholas, who went on to become Head Boy at Paraparaumu College, received a New Zealand Qualifications Authority Premier Award.  This achievement is due to the scholarships he received last year in biology, health and physical education, physics and statistics as well as a scholarship in calculus and chemistry.  This year Nicholas is off to Otago University to study health-science; he will receive $10,000 each year for three years, provided he maintains a B average. 
Emily, Alyssa and Sofia from Room 11 presented me with their Treaty Waka project last week.  They had been reading about Tiriti o Waitangi and learning what treaties are all about.  They then created their own treaty and presented it in a 'waka' with other important items.  This is great learning kids!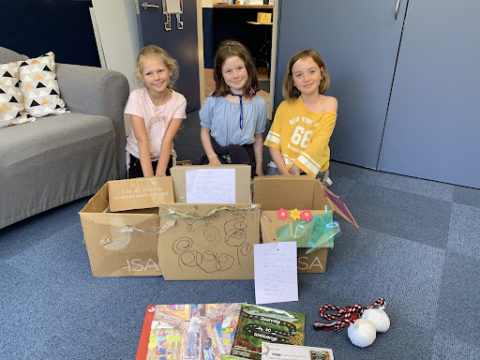 Students in Room 4 started creative diorama projects in lockdown and have completed these this term. Here are a few inspiring examples from Keely, Isabelle, Josh and Charlie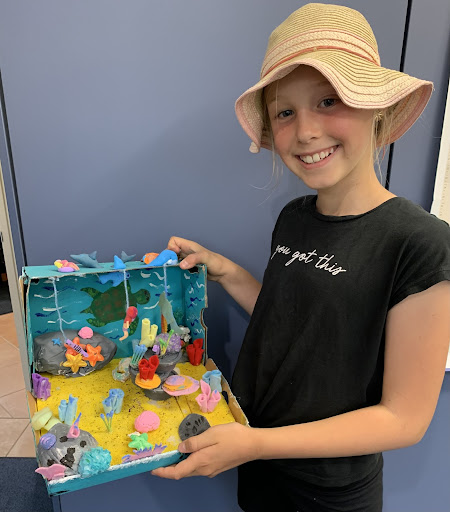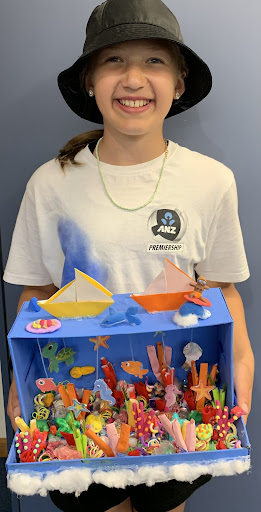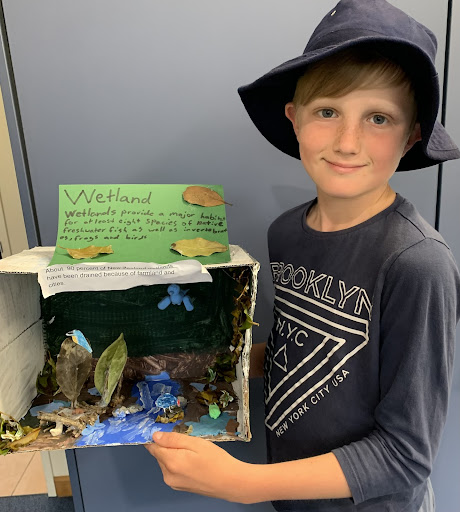 Congratulations to PBS Swishes who made it through to the Interschool Basketball girls final and came second in the grade. By all accounts it was a great game, however, Kapakapanui came away with the win.  I have a feeling that 2022 will be your year girls, so keep up the excellent game play!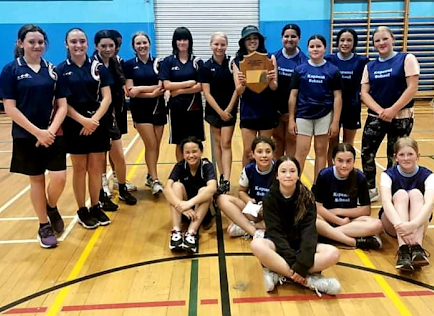 Many hands make light work – a saying which has been proved over and over again at PBS this term. With all your work comes genuine gratitude; thank you so much to all who have helped out recently.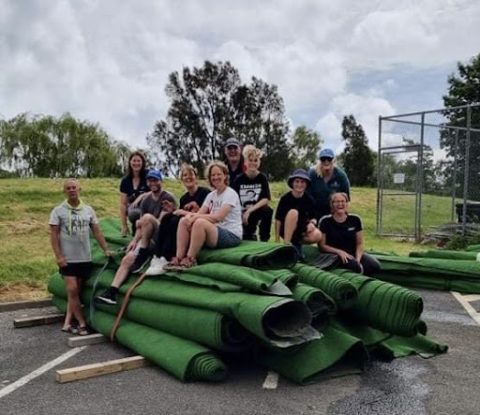 Congratulations to Mason Pulepule who was asked to trial for the HHA U13 Boys team to compete in the U13 Lower North Island Festival. He was selected for the top squad and they competed well and finished unbeaten over the 4 day event.  Mason has now been awarded MVP for his U13 HHA Team. Well done!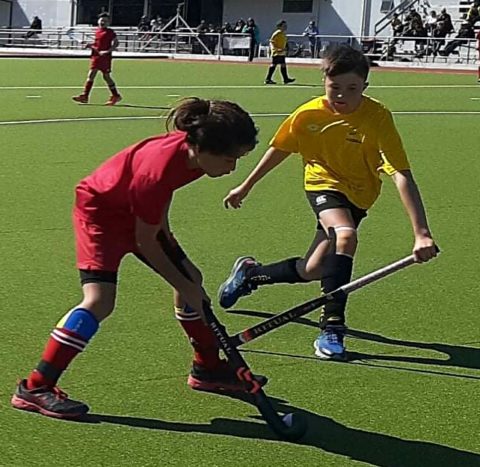 Thanks to Our Gardening Volunteers
Many thanks to our hard working gardening volunteers who helped tidy up the school frontage gardens recently! A very big thank you also to Gus and Glenys Evans for their generous support in plants.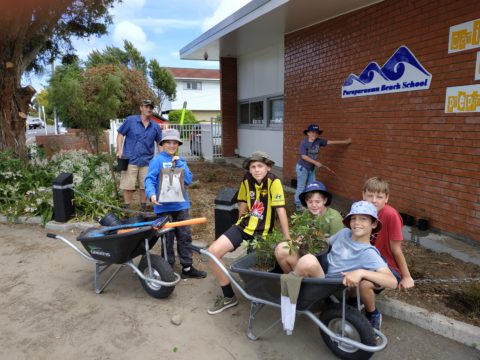 David Parr has set this group of students up to work independently every morning to broadcast the daily messages to classrooms. Classes tune into the TV station at 9.05am for the daily news and weather, there are also advertisements included. Of course this is only the beginning of what we hope this group will achieve in the future. We hope that in 2022 we'll be able to share more of this with a wider audience. Thanks for bringing the joy team!
Visit from HUHA Co-Founder
Recently Student Councillor Phoebe organised for Carolyn Press-McKenzie, Co-Founder of HUHA, to speak to the students of Te Moana. HUHA, which stands for Helping U Help Animals, is a charity that teaches empathy to the community and provides shelter for less fortunate animals. Carolyn brought a puppy named Olive with her to explain her life journey and how we can give animals a good life. The students had a lot of patai (questions) for Carolyn!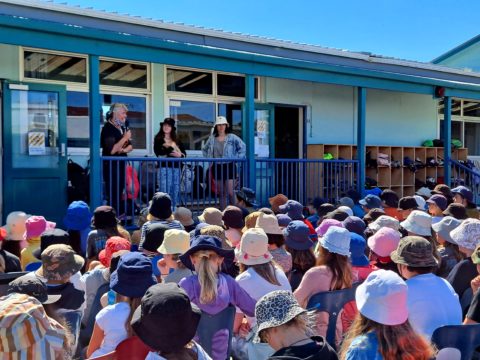 Children are buzzing with excitement over the new junior playground near the office. It's been so great for the students to have had input into the playground design and watch it's construction first hand!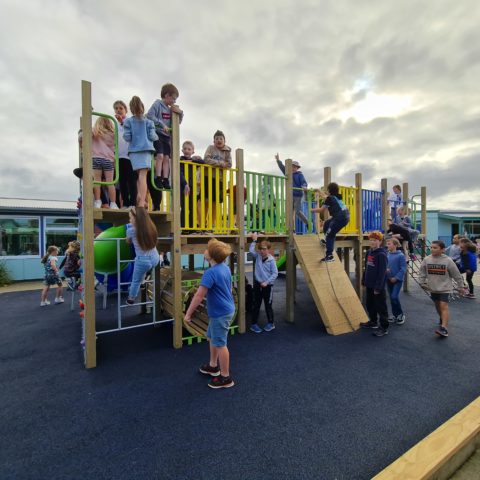 Recently our senior school had a visit from Mayor Gurunathan of the Kapiti Coast District Council. Jack, one of our councillors, invited the Mayor to share his life story and some wisdom that might inspire others.
Lewis Chandler and Sam Scriven were selected for Kapiti Basketball U13 Representative teams for 2021. Although the main BBNZ tournament was once again cancelled due to Covid restrictions, the Kapiti teams were able to play in a number of smaller regional tournaments over the last 5 weeks and were very successful, winning against top rep teams from Wellington, Hutt Valley, Porirua and Levin.  An awesome achievement for the boys!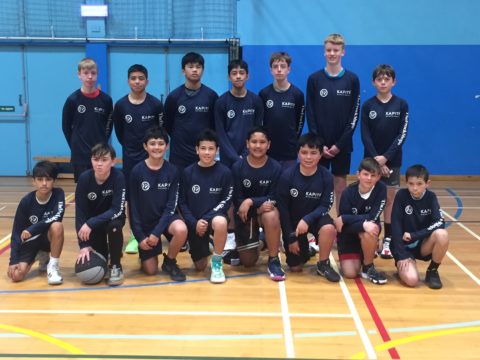 Inter-Regional Cross Country
Congratulations to PBS student Mia Thomson, who today won the Inter Regional Cross Country final for Year 5 girls. Mia not only won an individual gold, but was part of the Wellington team to win a team gold. We are all very proud of you. Ka rawe!
The team had a really tough final for the plate on Saturday and came together to support each other and seal a well desired win. They should all be proud of the growth and progress they have made since coming together in April for their first round of games!
Every year PBS enters students into the University of Canterbury's "Kiwi Competitions" for English, Mathematics and Science. A number of students achieved merits for their efforts and seven PBS kids received EXCELLENCE awards! Congratulations to Chester Jackson and Cuinn Walmsley who achieved excellence in Mathematics; Isobel Chisholm and Monty Parr for excellence in English; and to Callum Rice, Monty Parr and Benjamin Ross for excellence in Science. We are so proud of you all!
This year's winner was the highly talented Isobel Chisholm with her speech on "English". This is the fourth year in a row that Isobel has won one of our Speech competitions, having won the Year 5-6 Speech Cup in 2018 and 2019, and the Year 7-8 Speech Cup in 2020. Phenomenal work Isobel!
Eva, Vienna and Chester got to meet some of the Kapiti Youth Support (KYS) team and explained about the KYS fundraiser they had organised, and the support they received from the PBS community for their Wellbeing Awareness Day.  KYS were very impressed and grateful for the money raised!
Thanks to our "Green Thumb" kids – Ethan, Max, Jack, Emily, Amy, Callum, Josh and Shaun, and adult helpers – John Trask, Zoe Pearson and Nikki Bradley for their gardening bee recently. The garden beds around the hall are looking so refreshed and tidy as a result of your mahi!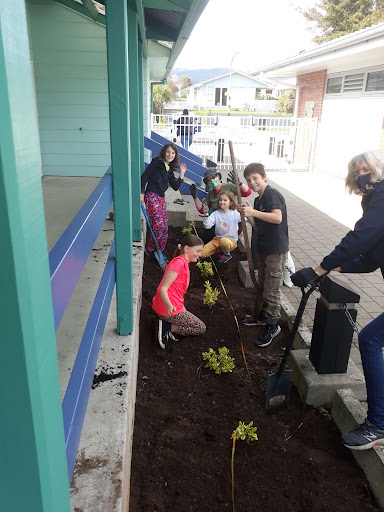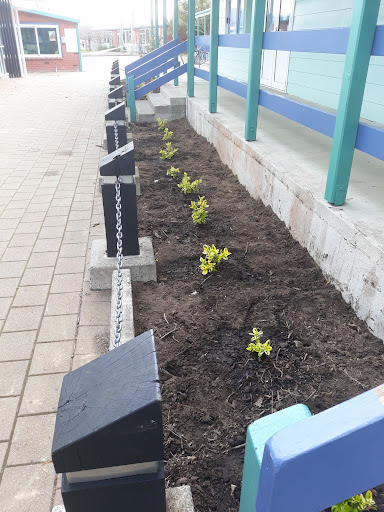 Congratulations to Olive Knap, Danika Stratford, Mahālia Bolton-Smithson, Hosheia Bolton-Smithson, Jacob Wood, Sonny Rehal and Carter Harris who have been selected to have their poems published on our school website from the recent Poetry Challenge!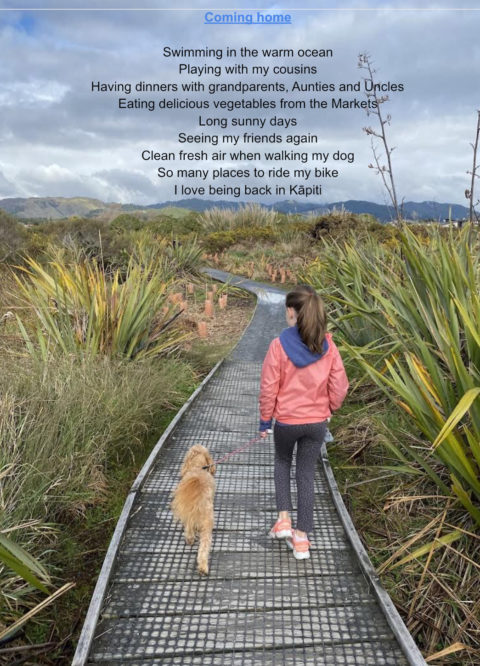 GROWING UP IN KĀPITI
I love living at Paraparaumu
I love doing DAPA with my friends
I go to DAPA to learn to dance
I like going to the parks
It is fun because they have swings
I like the beach
By Mahālia Atawhai Bolton-Smithson
Age 6
GROWING UP IN KĀPITI

Watching movies, playing games, going on trips, living by friends.
Cool house, big back yard, living by beach, going fishing.
Catching big fish about 2cm wide.
Living in Kāpiti is so fine.
By Hosheia Wairua Bolton-Smithson
Age 8
OUR KIWI HAIKU
5 kiwis live in dens
7 big flightless wings and small feet
5 brown body, long beak
By Jacob Wood
Age 8
LIMERICK
A limerick is a five line poem with the first, second, and fifth lines rhyme and the third and fourth lines rhyme
I love the Kāpiti beach,
It has a lot to teach:
I can count shells,
Can spell on sand well,
And hear the seagulls screech.
By Sonny Rehal
Age 9
MY ACROSTIC POEM KĀPITI
Kāpiti Island I see every day on my walk.
A playground for every day of the week.
Peka Peka Beach we like to visit.
Interesting animals at Nga Manu.
Touch at Mazengarb Park.
I love playing at the local parks.
By Carter Harris, Age 7
GROWING UP IN KĀPITI
Growing up in Kāpiti is so much fun
Come visit Kāpiti, It's number 1
The people here are super friendly
Also kind and caring
I love the beach
And the playgrounds too
Everything is so colourful
And also very fun!
If I had to pick a favourite place, its PBS!
By Danika Stratford, Age 9