The team had a really tough final for the plate on Saturday and came together to support each other and seal a well desired win. They should all be proud of the growth and progress they have made since coming together in April for their first round of games!
Every year PBS enters students into the University of Canterbury's "Kiwi Competitions" for English, Mathematics and Science. A number of students achieved merits for their efforts and seven PBS kids received EXCELLENCE awards! Congratulations to Chester Jackson and Cuinn Walmsley who achieved excellence in Mathematics; Isobel Chisholm and Monty Parr for excellence in English; and to Callum Rice, Monty Parr and Benjamin Ross for excellence in Science. We are so proud of you all!
This year's winner was the highly talented Isobel Chisholm with her speech on "English". This is the fourth year in a row that Isobel has won one of our Speech competitions, having won the Year 5-6 Speech Cup in 2018 and 2019, and the Year 7-8 Speech Cup in 2020. Phenomenal work Isobel!
Eva, Vienna and Chester got to meet some of the Kapiti Youth Support (KYS) team and explained about the KYS fundraiser they had organised, and the support they received from the PBS community for their Wellbeing Awareness Day.  KYS were very impressed and grateful for the money raised!
Thanks to our "Green Thumb" kids – Ethan, Max, Jack, Emily, Amy, Callum, Josh and Shaun, and adult helpers – John Trask, Zoe Pearson and Nikki Bradley for their gardening bee recently. The garden beds around the hall are looking so refreshed and tidy as a result of your mahi!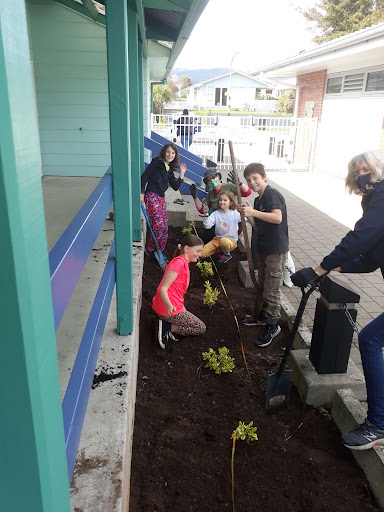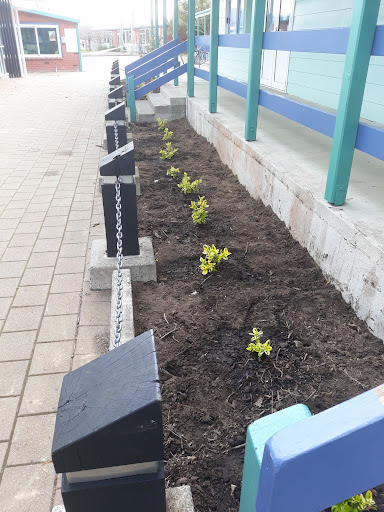 Congratulations to Olive Knap, Danika Stratford, Mahālia Bolton-Smithson, Hosheia Bolton-Smithson, Jacob Wood, Sonny Rehal and Carter Harris who have been selected to have their poems published on our school website from the recent Poetry Challenge!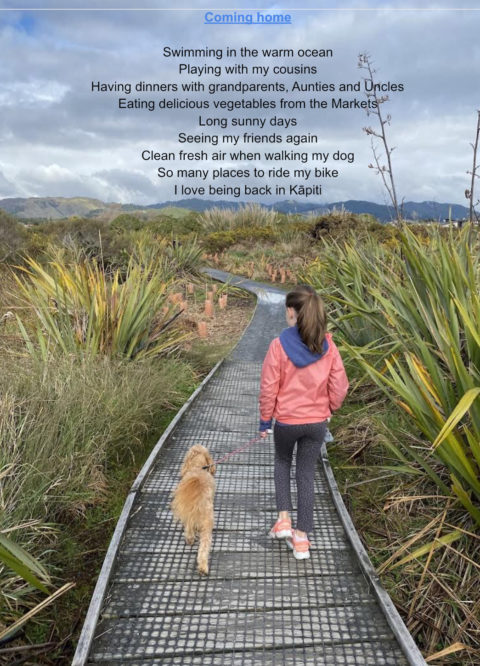 GROWING UP IN KĀPITI
I love living at Paraparaumu
I love doing DAPA with my friends
I go to DAPA to learn to dance
I like going to the parks
It is fun because they have swings
I like the beach
By Mahālia Atawhai Bolton-Smithson
Age 6
GROWING UP IN KĀPITI

Watching movies, playing games, going on trips, living by friends.
Cool house, big back yard, living by beach, going fishing.
Catching big fish about 2cm wide.
Living in Kāpiti is so fine.
By Hosheia Wairua Bolton-Smithson
Age 8
OUR KIWI HAIKU
5 kiwis live in dens
7 big flightless wings and small feet
5 brown body, long beak
By Jacob Wood
Age 8
LIMERICK
A limerick is a five line poem with the first, second, and fifth lines rhyme and the third and fourth lines rhyme
I love the Kāpiti beach,
It has a lot to teach:
I can count shells,
Can spell on sand well,
And hear the seagulls screech.
By Sonny Rehal
Age 9
MY ACROSTIC POEM KĀPITI
Kāpiti Island I see every day on my walk.
A playground for every day of the week.
Peka Peka Beach we like to visit.
Interesting animals at Nga Manu.
Touch at Mazengarb Park.
I love playing at the local parks.
By Carter Harris, Age 7
GROWING UP IN KĀPITI
Growing up in Kāpiti is so much fun
Come visit Kāpiti, It's number 1
The people here are super friendly
Also kind and caring
I love the beach
And the playgrounds too
Everything is so colourful
And also very fun!
If I had to pick a favourite place, its PBS!
By Danika Stratford, Age 9