Kia ora whānau
Te wiki o te reo Māori tenei!
21% akonga Māori i roto i te kura Tātahi o Paraparaumu. The percentage of PBS students with Māori heritage has grown significantly in the last 15 years.  For those students, their whānau, and in fact all Kiwis – Māori and non-Māori – we must do all we can to champion Māori language week.
Celebrating Māori Language week is important because te reo and tikanga Māori are part of the culture and identity of this land.  Our participation in keeping te reo alive helps protect and promote the unique first culture of our country.  https://www.reomaori.co.nz/resources 
Karawhiua!
In recognition of Queen Elizabeth II's life and in acknowledgement of her passing New Zealand is having a national holiday on Monday, 26 September.  Therefore, school will be closed on this day, making our last week of Term 3 a four day week.
Whilst there will be royalists and non-royalist among us I do believe Queen Elizabeth was a true role model of selflessness and servitude. I doubt we will ever see such a long reign again in our lifetime. May she rest in peace.
PRINCIPAL'S GREAT NEWS CORNER:
Sharing good news spreads positivity, changes attitudes and ultimately leads to more people feeling encouraged and happy
I was pleased to be able to make it along to the A Team Netball final on Saturday. Our PBS Acers team had invited me along to be a cheerleader and I was proud to watch them play.  Though they didn't win this particular game, I was impressed with the determination and energy they showed right throughout the game.  It spoke volumes of their growth mindset and teamwork.  Excellent effort Acers – I loved the spirited and positive energy you displayed on court; what a great example you've set for others.
Kia pai te rā!
Jess Ward 
Tumuaki ~ Principal
PS Don't forget to vote in our Board Elections
Welcome to Our Recent New Students
There were no new students this week


We are delighted to have 8 candidates to fill the 5 parent representative positions on the PBS Board this year. It is important that you vote!
PBS is using electronic voting this year for our school Board elections. CES is the organisation contracted to run these elections. On Friday, 26 August emails from
iro@electionz.com
were sent out to all parents/caregivers registered with the school with voting details. Please check your email and follow the instructions there to vote!  If you haven't received your email, please check your spam folder.
If you have any difficulties regarding voting, please email the Returning Officer, Libby Richardson, on 
lrichardson@pbs.school.nz
Voting closes on Friday, 23 September at 4pm.
Ngā mihi nui koutou!
Thank you for supporting Onesie Day! Together we raised a grand total of $782.10. We're stoked and we're sure Wellington Free Ambulance will also be stoked. Watch this space in the coming weeks for when we hand over all the funds.
From the Student Council
Another event we can start looking forward to is PBS Book Week, which is happening in the last week of term (26-30 September). There will be a few activities throughout the week, ending with a Book Character dress up day on Friday, 30 September. So start thinking about who your favourite book character is as we're planning a parade!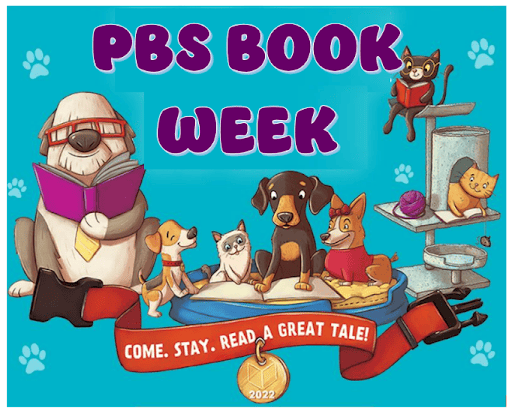 Lockdown Practice - Heads Up
Between now and the end of term our school will be practising a lockdown drill with all classes.  Teachers will talk their students through this so that they know it is a drill. 
Practising procedures for lockdown and 'shelter in place' scenarios enable the school staff to check and review the measures we have planned in the case of a chemical spill, bee/wasp swarm, unwanted trespasser on school grounds or another kind of safety hazard which would require students to stay indoors.
With the government announcing the end of the Covid Traffic Light system we say goodbye to wearing masks at school.  We will of course continue to support any staff member, student or visitor who chooses to wear a mask at any stage; that is the choice of each individual.
Once again, thank you all so much for supporting our school stance of wearing masks up until today.
It's interesting the things kids choose to share with their Principal….
"My dad stuck his smelly feet in my face – He's a silly dad!"
Do you have any unused kids bike helmets (in good condition) at home that you're willing to donate to the school?  Please drop any items into the school office.  Thanks a million in advance.
Using Māori Language at Home
It's important for all Kiwi to learn te reo.  Each week our newsletter will include phrases that you might like to try out at your place.  After all, it will take the whole nation to keep this unique language alive.
Te Wiki o te Reo Māori or Māori Language Week is an annual celebration held in the third week of September. It aims to inspire New Zealanders to speak the Māori language proudly. 
You could observe Māori Language Week by learning some kupu/words, practising your pronunciation or listening to a te reo Māori podcast. There's lots of resources online. Here's some helpful links: 
This term many of our classes are exploring tools that they can use to regulate their emotions. Students will learn a number of strategies that they find calming and help them to be alert and ready to learn. They will also come to understand that different tools affect each person differently and they'll have to practise them to figure out which tools are the most effective for them. 
Another example of a calming strategy is The Six Sides of Breathing (see the diagram below). This is a simple tool that can help students to gain control over their emotions when they are feeling heightened by focusing on their breathing.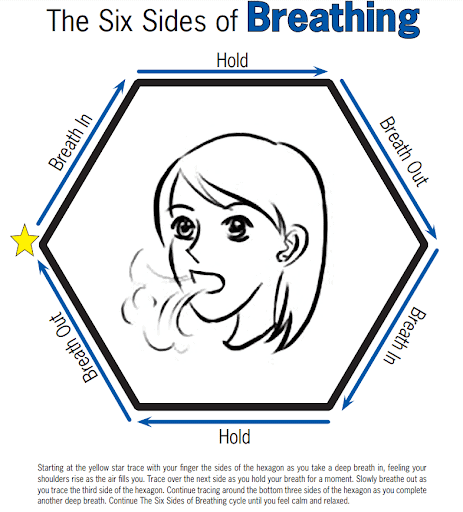 Congratulations to all of our winners:
1 st Prity Kumar
2 nd Cath Franks
3 rd Jeff Hill
4 th Shelley Evans
5 th Simon Amos
6 th Darryl Caldwell
7 th Sarah Lawton
8 th Larissa McGarry
Thank you once again to all of our sponsors, PTA and parents including:
Olivia Walker Worksheets
A1 Homes
Maharaj Family
ELH Consulting
HMC Kapiti
SWT Building
Khan Family
Paraparaumu Doors
Sunday Cantina
Dane Coles
Sterling Sports
Texturite
Sarah Pou
BU Global Shoes
Anthea Evelyn Design
Bedlam & Bliss
Preen Body and Beauty
Ensoul
EZ Covers Rebate Programme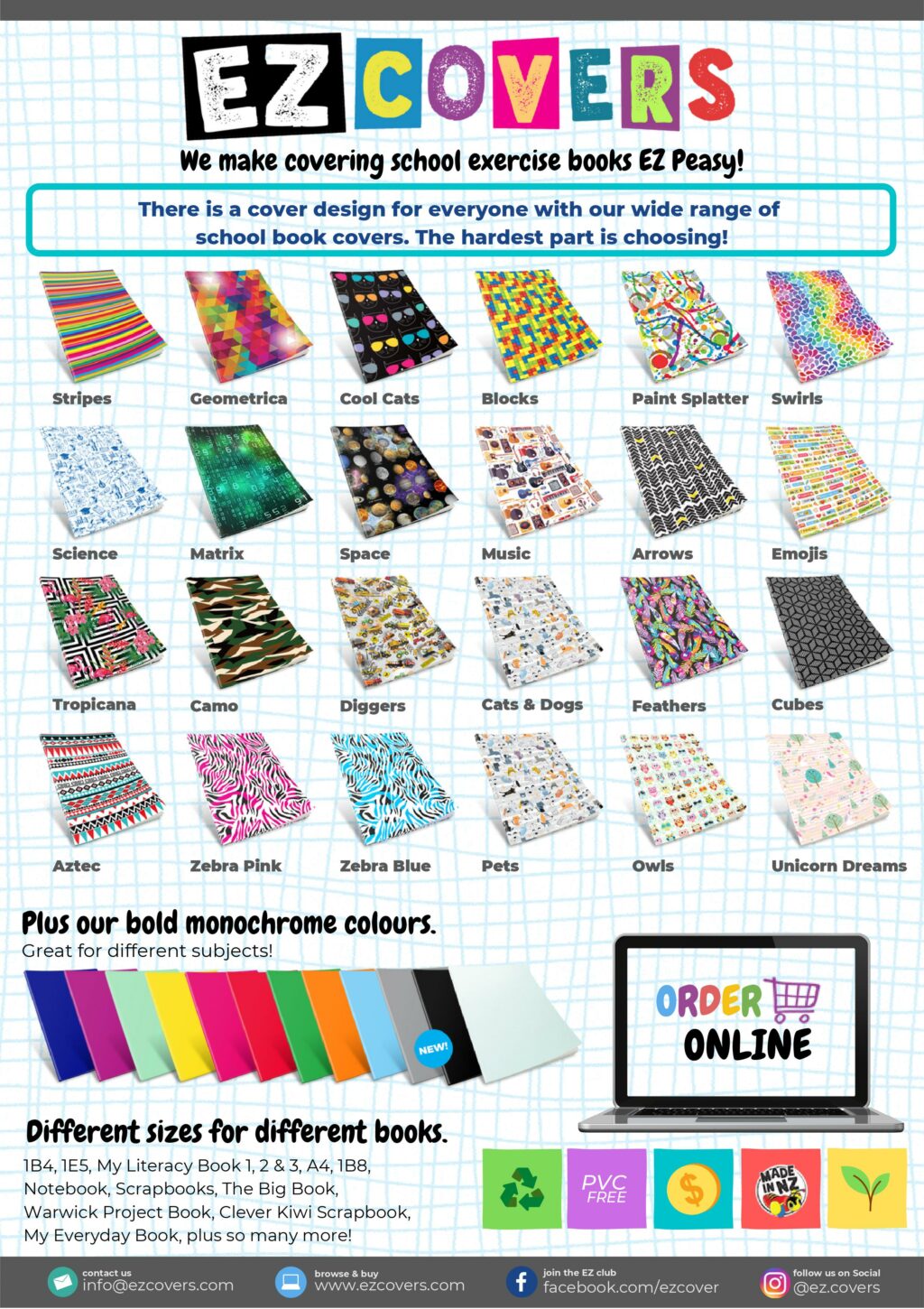 TE MOTU CAMP FUNDRAISING 2023
Hot Dog Fundraiser - Supporting Te Motu Camp 2023
American hot dogs available again on Friday, 23 September.  Orders close at midnight on Tuesday, 20 September.  Order yours now for $4 each on Kindo.
Calendar Art orders are closed and final forms are due in no later than 3pm today (Tuesday).  Any queries please direct to Kylie Morrell at morrellfam@outlook.com
Year 7 Vision Screening Programme - 23 September
Regional Public Health proviedes a vision screening programme for all Year 7 students:
Vision – pupils will be advised of results at the time of screening.  If further assessment is recommended you will be notified by mail
Children who wear glasses and/or are under professional care and have regular checks will not require a vision check from our service
Non-consent – please notify your school if you do not want your child being screened.
This screening is not a full assessment of your child's vision.  If you have any concerns, please see an optometrist.
Please don't forget to complete a Student Leave Form prior to taking your child out of school for reasons other than sickness.  Student Leave Forms are available at the office or can be completed online through our website here.
If you do not complete the Student Leave Form your child could be marked incorrectly.
Thank you.
As soon as school photo order forms are received we will send them out to classes.  Orders will close on the first Tuesday of Term 4.
Yummy hot chcolates will be available at the hall on Tuesday mornings before school while stocks last!  $2 each.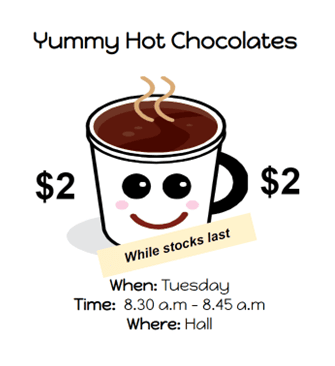 Have You Checked Out Our Community Notices Directory?
Do you need to advertise your business, an upcoming event, need child care,  or looking for a gift or new club to join?  Check out the PBS Community Directory on our website  https://kapiti.pbs.school.nz/
Below is an example of what you will find in the Retail section:
If your child wants to play touch rugby this season, please have them registered by Friday, 16 September.  You can register through KINDO or get paper forms from the office or Room 16.
Late registrations may not be able to be fitted into a team, so please remind your friends and whanau to get registrations done now!
Registrations close on Friday, 16 September.
Thank you for all of the yummy stickers that have been sent in so far! The more we collect the more sports gear we will receive so please keep them coming. This runs until the end of the term.  Please note that we get double points for the Sweet Tango, Lemonade and Ambrosia stickers, so please stick these ones to the appropriate collection sheet (the one with the trees). It makes collation so much easier for us.
Yummy apples are available from New World, Pak'n Save and participating Four Square stores.
Sticker collection sheets are available from the School Office or the Yummy Fruit Company's website https://www.yummyfruit.co.nz/schools/
Future Student Achievements
If your child has an achievement you would like us to share in our newsletter, then please send details (and a picture if you would like) to mbarfoote@pbs.school.nz