Tēnā Koutou
Welcome to November! For me it certainly
feels true that the older you get, the faster the years seem to fly by. I am having a fantastic few days at Kaitoke Camp with Rooms 3, 4 and 29 this week. It's refreshing to be away from the computer screen and outdoors with kids. I must say camp food is also 10 times better than I remember from childhood!
Hopefully November will bring some warmer and more consistent weather so we can all enjoy the outdoors more. The Year 5-6 kids are all off to camp at Kaitoke this week and then in mid-November our Ngaru team (Years 3-4) are undertaking a big beach and estuary clean up. It's awesome to have the kids involved in caring for the environment. Then of course we have our full school tsunami evacuation practice (brisk walk to Mazengarb Park) on 17 November.
Please keep up your newsletter readership over these coming weeks, as there's lots on and lots to do before year end. We don't want you to miss out on anything important.
Kind regards
Jess Ward – Tumuaki ~ Principal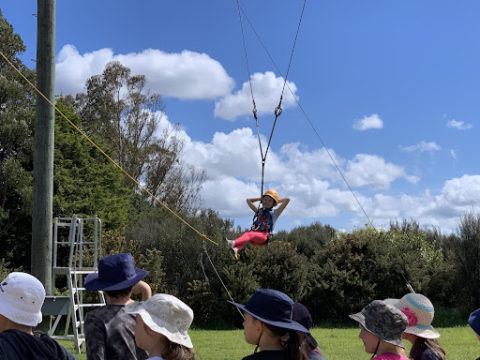 Welcome to Our Recent New Students
There were no new students this week.


Check out these colourful artworks from Room 22. The students were learning about shapes and patterns. They used Piet Mondrian's style of artwork to create their own animals and people images. Simply fab results!
If you have any school contributions outstanding for this year, we would really appreciate your support. Payments can still be made via KINDO for school donations, payments for Education Perfect (Year 7-8), IXL and Tech Centre costs (Year 7-8) etc. Every little bit helps us tremendously.
Thank you.
Our practice for NZ Shakeout last Thursday went very well. Earthquakes are a fact of life in Aotearoa but at least we can teach kids the best ways to shelter and stay safe.
As stated in previous newsletters, we have also set Wednesday, 17 November aside for our Tsunami drill. On this day we will again practise an earthquake scenario followed by a full school evacuation – walking briskly down Guilford Drive, Central Park and to the back of Mazengarb Park. We will assemble here, check class roles, fulfill other checks on our evacuation procedure and then return to school. Students will know this is a drill beforehand so we can avoid undue stress or anxiety. Please note that under our blanket consent process, we will not be collecting separate parental permission for this evacuation drill.
As our school is situated in the Civil Defence's Yellow Zone for tsunami risk (Yellow Zone is the lowest of the coastal risk areas) we need to walk 1km inland for safety.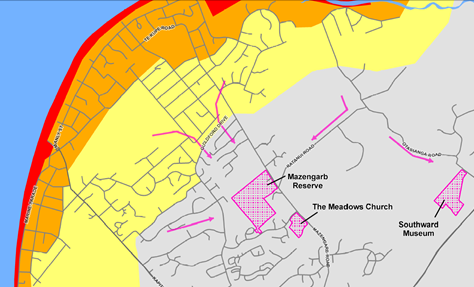 Using Māori Language at Home
It's important for all Kiwi to learn te reo. Each week our newsletter will include phrases that you might like to try out at your place. After all, it will take the whole nation to keep this unique language alive.
Anei ngā rā o te wiki – Here are the days of the week
Rāhina – Monday
Rātū – Tuesday
Rāapa – Wednesday
Rāpare – Thursday
Rāmere – Friday
Rāhoroi – Saturday
Rātapu – Sunday
Staff Gratitude Section
Sports have been incredibly disrupted by Covid-19 over the last 18 – 24 months. However, schools and clubs have done their very best to keep kids active in PE and sporting opportunities. At PBS various staff members take responsibility for organising various opportunities both on-site and outside of school hours. Even the tasks like ensuring the school has plenty of PE equip-ment and an orderly PE shed take up many hours. So this week I want to acknowledge the key staff members who make all this possible: Hillary Houston, Alice Graham, Kyle Reesor, Vicki Wilson and Teresa Robertson.
Thank you so very much!
Whilst walking through the playground a five year old struck up a conversation with the Principal….
"You're the boss of the whole school aye?"
"Yes I am."
"But not the boss of the whole world?"
"No"
"Boys and girls can be bosses aye?"
"Yes they can."
Guest Speaker
Last Wednesday our senior school had a visit from Mayor Gurunathan of the Kapiti Coast District Council. Jack, one of our councillors, invited the Mayor to share his life story and some wisdom that might inspire others.
We now know that the Mayor has led an interesting and full life, overcoming adversity and being part of some major events in Aotearoa's history. A couple of key take aways from Mayor Gurunathan's speech were to value education and work hard as it can provide us with opportunities, and to stay connected with our grandparents, as they are a blessing and can teach us many things such as empathy, tolerance and respect.
We are hoping to have another guest speaker in a couple of weeks to inspire the Year 5 & 6 Syndicate.
Sunscreen Station
This term the Student Council set up a Sunscreen Station for students to access when in the playground. The PTA kindly provided the funds so that the councillors could get this project off the ground. The sunny weather this week has led to it already being well used by students. If anyone wants to donate a 1 Litre tub of sunscreen to the school for future use, we'd be very grateful!
Litterless Lunch Boxes
We're also promoting litterless lunch boxes. We've noticed an increase in lunch wrappers floating around the school and as an Enviro School we want to walk the walk. Please can you help us to encourage lunches that require less wasteful packaging? Here's some links for ideas:
Kia pai te rā koutou!
The children were buzzing with excitement over the new playground on Monday morning.  It's been so great for the students to have had input into the playground design and watch it's construction first hand!
Board Outstanding Achiever Award - Final Call
The Board is seeking nominations for this year's Outstanding Achiever Award.
The purpose of this award is to acknowledge students who have achieved at a very high level, and to promote these students as role models throughout our school community in a manner that reflects and incorporates our school CREST values. We encourage nominations from Years 4-8 students.
This award is made annually to students who attend the school and who during the previous 12 months have made an outstanding contribution (in-school or out-of-school) in areas of academic, cultural, sports, community service or other activities.
You can download the PDF nomination form and further information here OAA 2021 to nominate your child or another PBS student. Copies are also available from the school office.
The nomination closing date is this Friday, 5 November.
For further information on the awards process, please contact Assistant Principal, Vicki Wilson during school hours on 298 5775.
Te Moana Soap Fundraiser a Squeaky-Clean Success!
Te Moana Soap Fundraiser Wrap Up
Thank you to everyone for getting behind our fundraiser – it has been incredibly successful. We started off with one order to see how it would go, and the demand went through the roof (we ended up with three large orders) – 26 big boxes of soap. There should be lots of squeaky-clean people out there with these lovely eco-friendly soaps!
A huge thanks to all the students and parents who put in the mahi to get so many soaps sold, despite lockdown delays and other challenges.
In total Te Moana, you:
– Sold just under 2,500 soaps
– Made a profit of just over $4,300 towards the Year 5 & 6 Camp
This is a huge contribution to the overall costs of camp and for individual families, making camp fees more affordable. Well done everyone!
Thank you to class teachers for assisting, and a special thank you to Libby, Marie and Paula in the office for helping to collect money & soaps, publish notices, track sales and help us navigate our way through running a fundraiser.
Nga Mihi PBS!
Catherine Rice & Sue Corin
If you have a netball uniform at home you are not using, please return it to school as soon as possible.
Thank you.
Future Student Achievements
If your child has an achievement you would like us to share in our newsletter, then please send details (and a picture if you would like) to mbarfoote@pbs.school.nz
Advertise in our Community Directory
 PBS has launched an online community directory for the Kapiti Coast.
The Paraparaumu Beach School Community Directory is an online, user-maintained list of businesses, events, and opportunities in the Kapiti area and gives local businesses the opportunity to support PBS while promoting themselves and improving their search engine visibility. It has replaced the community notices section of our school newsletter.
To view the new community directory and for instructions on how to advertise, please click here